The Suites by Ayala Land effortlessly is making a statement, rising above them all, when it comes to elegance, style and luxurious lifestyle that it offers its consumers with through the years. Ayala Land is continuing to create and develop high-end properties, which are located in key cities in the country and top business locations to offer its buyers with the modern lifestyle they're looking to experience.
This lavish residential tower is bordered by the 3rd Avenue and 28th Street, making it is easy to find and move from to any places in the city or surrounding towns. This development is in a strategic location that provides residents with an immediate access to transport systems, including taxicabs. The developer also ensures that residents can take advantage of the urban lifestyle now in Bonifacio Global City where to find lavish, top of the line and the best of the best regarding commercial, residential and lifestyle activities and pursuits.
Bonifacio High Street is composed of a kilometer long lifestyle destination that traverses in the heart of the Global City, known for its nightlife, leisure destinations, food and dining and so many more. The Bonifacio High Street offers shoppers and visitors with  an enhanced walking experience, a panorama of retail and commercial establishments, abundant open spaces, amazing landscapes and art and play pieces.
This vibrant spectrum starts with the landmark address of One Bonifacio High Street, where to find a wide range of mixed-use developments, including an office building, retail stores and The Suites. Each of them is designed and decorated with modern and contemporary elements that will complete the positive vibe and fresh setting with a timeless elegance.
Choosing The Suites, residents and buyers can choose from a wide range of options: 2BR, 3BR and 4BR units and start living in the heart of them all at the One Bonifacio High Street.
This condominium development is located near malls including the Office, BHS Central, The Marketplace, Central Square and the C1, which are just less than a kilometer each away.   These shopping malls make living in the condominium property more convenient than choosing any other.
The place is also near restaurants including the Pinks, Riozen, Sugar Factory, Green Pastures and Bistro Filipino, each only less than one kilometer away from the condominium suits. So no matter what your food craving is, there is surely one to try by choosing The Suites.
For schools, this property is located near the Learning Jungle, Creative Play Corner, Global City Innovative College, Kelly Academy International and Little Gym. All these are only a short drive away from it.  So if you're looking to send your children to the best schools in the city, there is nothing to worry because The Suites keep you close to them.
For healthcare, there are clinics near the place under one kilometer. These are the Aimee Aguilar Teo, Tomatis, Le Clinique, Spinal Care and The Dermatology Suite.
For worship places, there are some to find near the property, and they include the Sto Nino Catholic Church, Island Baptist Church (Taguig City),, Our Lady of the Holy Rosary Church,  St. Michael the Archangel Parish and the Pentecostal Missionary Church of Christ (4th Watch) - Taguig City.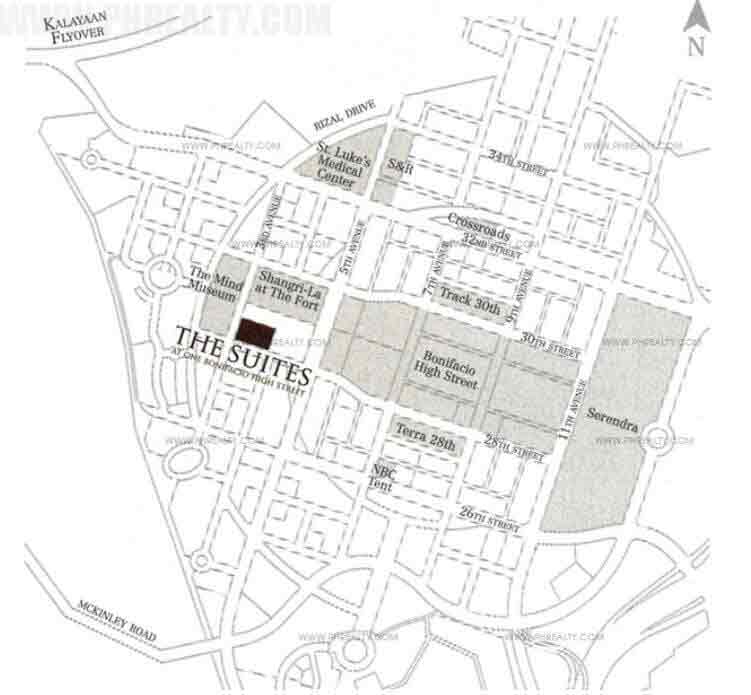 Ayala Land Premier positions this distinctive, all-suite residential community within One Bonifacio High Street, an integrated, urban core anchoring Bonifacio Global City (BGC) with a collection of best-in-class residential, commercial, and lifestyle pursuits.
Bonifacio High Street is a two-kilometer lifestyle destination traversing the heart of Bonifacio Global City. Beginning with The Shops at Serendra, Bonifacio High Street creates an enhanced walking experience with unique, highly urban encounters: a panorama of retail and entertainment; interactive art and play pieces; abundant landscapes and open spaces. This vibrant lifestyle spectrum culminates in BGC's landmark address, One Bonifacio High Street. A mixed-use development bringing together retail shops, an office building, and The Suites, each destination's design elements complement the whole—a setting of iconic, timeless elegance.